airmoBTX 1000
Benzene / Toluene / Ethylbenzene / Xylenes Analyzer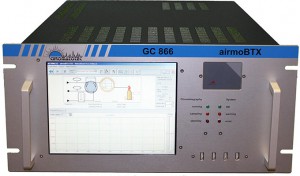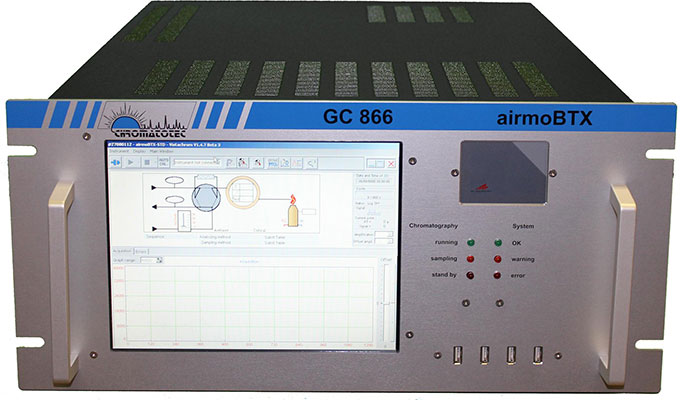 Description:
The airmoBTX is a gas chromatograph for the analysis and monitoring of trace amounts of benzene, toluene, ethylbenzene (m/p/o) xylene by FID detection.
Principal:
Automatic sampling and concentration using an absorbant trap. Desorption from the trap and injection into a metallic capilliary column regulated by a temperature gradient. The H2 pressure at the column head is controlled by a piezo valve.
The detection of all compounds eluting from the column is performed by a FID detector
Characteristics:
The airmoBTX is equipped with an integrated PC that utilizes Vistachrom software. The internal calibration option allows for automatic validation of results. (Certified Benzene tube at ± 10%).
The instrument is robust, compact and very low maintenance and offers excellent result quality : repeatability, linearity, stability and sensibility (ppt).
VISTACHROM ® software :
Chromatotec developed software system allows :
Remote monitoring
Full traceability through archiving of results and QC
Set up and control of threshold alarms
Export of data MODBUS / MGS1 / 4-20mA /0-10V
Airmozone (PAMS)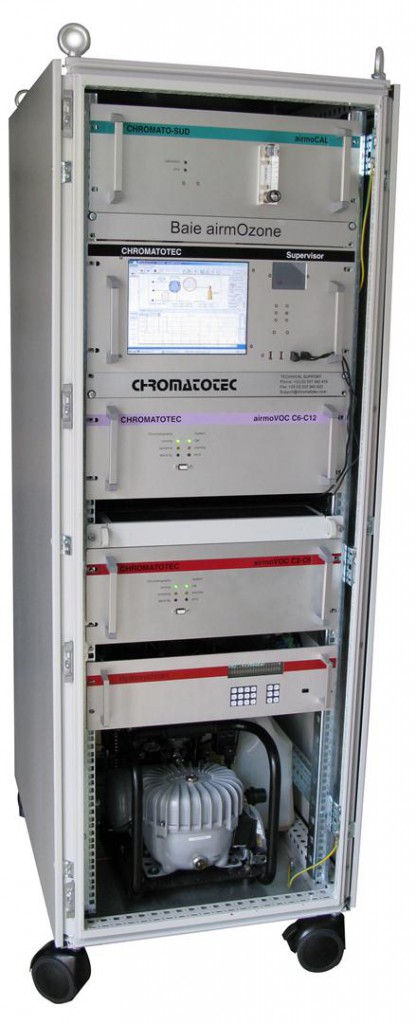 The Airmozone utilizes the airmoVOC C2-C6 and an airmoVOC C6-C12 with FID.
GC/FID for 88 compounds in ambient air
By combining those two instruments, it is possible to analyze light and heavy VOC compounds.
Using a FID detector and H2 as the carrier gas, the separation and sensitivity is excellent down to PPT levels.
The equipment has TUV approval on BTEX.
The Instruments are being calibrated with primary gas standard certified at ±2%.
There are no interferences on the 10 compounds which can potentially interfere with benzene in compliance with EN 14 662-3 (List of the 10 potential interfering compounds with Benzene).
The analyzer is LINEAR: range 0 / 100 ppb (0/325 µg/m3) (see doc airmoBTX / airmoVOC C6-C12, Linearity and repeatability Test).
The instruments are fully automated thanks to internal calibration (airmoCAL). The VISTACHROM software controls the analyzers and enables storage and display of the chromatograms thanks to Peak Viewer.
It is possible to transfer data to a data logger with the communication protocols MODBUS RTU, JBUS or German PROTOCOL.
The airmozone is the solution for in situ VOC analysis.