CAS/Chromatotec AutoGC System Receives High Marks in USEPA Evaluation
Since 2013 the USEPA has been working to re-engineer the Photochemical Assessment Monitoring Stations (PAMS) network.  The PAMS network was put into place to monitor Ozone (O3) precursors in O3 non-attainment areas.  Data from the PAMS network will be particularly useful to non-attainment areas in ensuring the implementation of the most cost-effective regulatory controls
Part of this re-engineering involves conducting an evaluation of AutoGCs to determine if these systems are suitable for use in the PAMS program.  This evaluation involved a two phase approach.  The first phase was an open laboratory based evaluation where eight different vendors participated.  The second phase is a field based evaluation where the top three rated participants from the laboratory phase would automatically advance to the field phase.  A complete system from the top three vendors was purchased by USEPA for the field evaluation.
Consolidated Analytical Systems, Inc. (CAS) is proud to announce that the CAS/Chromatotec  AutoGC system passed the first phase of the USEPA AutoGC evaluation with flying colors.  The CAS/Chromatotec AutoGC system finished in the top three, and was the only rack-mountable system purchased and automatically sent through to the field evaluation phase.  Read the full USEPA Report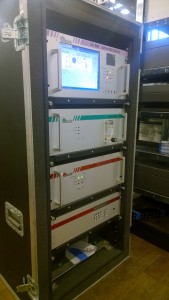 On Wednesday, March 18th the system was installed into a mobile laboratory at the RTI International laboratories in Research Triangle Park, North Carolina.  This installation marks the second phase (field) of the two phase evaluation.  During the laboratory phase the AutoGCs were tested with controlled gasses to evaluate performance (precision, bias, impact of temperature and humidity) and operation of the AutoGC.  For the field evaluation phase the AutoGCs have been installed in a mobile lab for evaluation at four field locations.  As of August 2014 the locations planned were RTP, Los Angeles, Baton Rouge, and New York.
What makes the CAS/Chromatotec AutoGC system different from the competition?
It is the only system that comes in a complete Turn-Key configuration with no other support equipment needed to operate

Comprehensive internal data logging with 40GB storage
Internal Calibration (Internal Permeation Standard)
On-board gas generators (Hydrogen, Nitrogen, Pure air, or combination)

No need for outside compressed gas to operate
It is the only system to meet detection limits in 30 minutes compared to 60 minutes for competitors. This allows the users to more effectively track the VOC concentrations and potential impacts to the community being monitored.
The results of the field evaluation are expected to be released in late 2015/early 2016.  Check back for updates on this important evaluation.
For more information on our partner Chromatotec please visit their website.