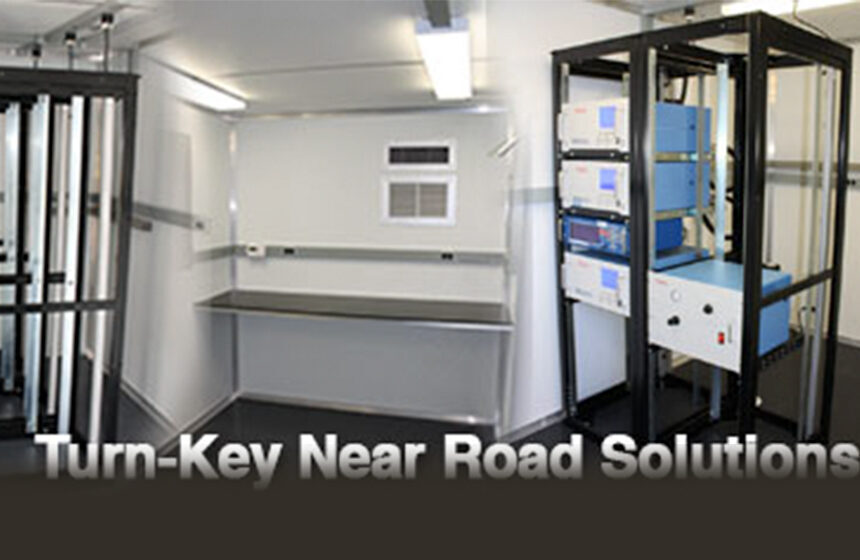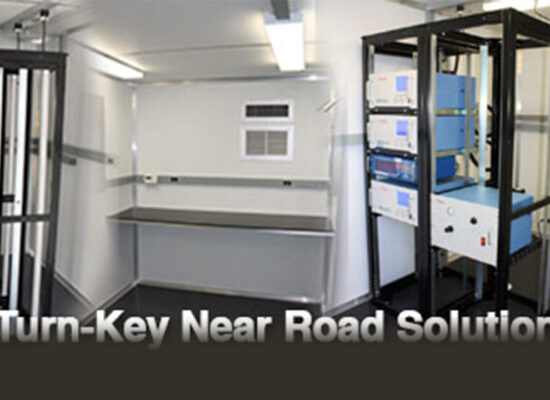 Near Road NO2 Monitoring
When setting up a Near-Road Monitoring Station, the SAFETY of the staff working at the site needs to be the first priority. Working next to a busy highway with vehicles traveling at speeds exceeding 55mph can be challenging if not downright scary! With that in mind CAS has designed a system that provides the best protection for on-site staff, while maintaining instrument optimization and LEED design principals.
NEAR-ROAD System
When designing your Near-Road system the first thing to consider is the shelter or enclosure to house the measurement system. We all know that placing sensitive scientific equipment next to a busy highway can be challenging. CAS recommends using our most rugged design for the Near-Road application. The CAS shelters provide the optimal environment for sensitive instrumentation. Using a recycled sea shipping container shell the shelter provides maximum safety, security and strength to withstand the Near-Road environment.
Integration / System Design
Simply select your instrumentation and let CAS do the rest. From site development to integration and training CAS can help at every step of the Near-Road process. Using a turn-key approach when purchasing can save the end-user up to 42% when compared to purchasing all components individually. Once the system has been built and integrated it's as easy as offloading and connecting power.
Standard Specifications
8'x20' Sea shipping container shelter.
FRP interior wall covering.
Seamless vinyl flooring.
R-25 Equivalent Insulation.
1 ton HV AC programmable.
Workbench.
Storage area.
Shipping Container
Shipping containers are manufactured in accordance with:
International Organization for Standardization (ISO).
ISO – 1CC type steel dry containers.
International Maritime Organization (IMO).
International Convention for Safe Containers (CSC) 1972-2007.
CSC Article IV(2).
Robust.
Weather-tite.
Manufactured with recycled material.
Standard 36" side door.
Double doors storage area.
Paint Color (selectable).
HVAC System
Self-contained heating and cooling system.
1.0 Ton (10,800Btu) with 3kW heating capacity.
1.5 Ton (18,000Btu) with 5kW heating capacity (optional).
2.0 Ton (24,000Btu) with 5kW heating capacity (optional).
Aluminum Finned Copper Coils.
Quiet Twin Blowers.
High Efficiency Rotary Compressor.
Green Refrigerant – R-410A Refrigerant-non ozone.
depleting (HFC).
Galvanized zinc coated steel enclosure.
Automatic Condensate Disposal System.
Programmable Thermostat with auto-switch over.
Programmable HVAC Control Center with alarm outputs.
(Lag/Lead Controller) (optional).
Aditional Options
Mount for mast directly on container.
Telescoping Mast.
Pneumatic Telescoping Mast.
Windows.
Exit lights.
Gas Bottle Mounts.
Roof Access Stairs (optional).
Internal Roof Access Hatch w/ Stairs (optional).
Anti-climb protective cover (external ladder only) (optional) Roof penetrations (selectable) (optional).
Interior Features
8'x12' control room w/ 8'x8' storage area.
8'x16' control room w/ 8'x4' storage area (optional).
8'x20' control room w/ no storage area (optional).
Client customized control room and storage area.
available upon request (optional).
Seamless Vinyl Flooring.
8' workbench.
Instrument Rack.
Sampling Manifold (optional).
Exhaust Manifold (optional).
FRP finish interior walls.
R-25 Equivalent Insulation.
Elecrical System
Electrical System meets or exceeds NEC Regulations.
Premium SquareD Electrical Components (major.
components).
100A 120/240V 1PH Electrical System.
100A 120/240V 1PH Load Center, 20 circuit capacity, surface mount.
100A 120/240V 1PH External Disconnect Box, NEMA.
3R.
Metal Electrical Raceway, Surface Mount.
Fluorescent Light Fixtures, 2 bulb, T8.
LED Light Fixtures, 2 bulb, T8 (optional).
Motion Sensor Flood Lights (optional).
High Pressure Sodium Flood Lights (optional).
Internal 120V 20A Duplex Outlets.
Internal 240V 20A Outlets (optional).
External 120V 20A Outlets (optional).
>100A, 3PH, Transformers, Switches, Panel Boards, Power Conditioners (optional).
Off the grid systems (optional).