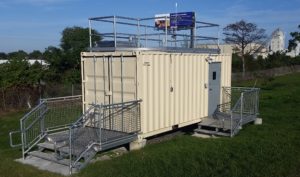 CAS 9003 Container Shelters provide the optimal environment for sensitive instrumentation. Using a recycled sea shipping container shell the container shelters provide maximum safety, security and strength to withstand any environment.  This series of shelter is optimal for the Near Road Monitoring environment.
CAS recognizes that every customer is unique.  Our Container shelters  are available in multiple colors and the interior layout can be customized to the needs of the client. CAS utilizes premium products and materials when manufacturing your Field Laboratory.  Adhering to the strictest manufacturing practices we can guarantee that we will exceed your expectations.
Why CAS?
Instrumentation manufacturers require that their instrumentation be operated in an environment that does not bias measurement.
What to look for?
Temperature stability
Temperature deviation +/- 1.5 ⁰C
Materials of construction
Low VOC emitting materials
Non-static forming flooring
Non-rusting components
Flexibility in layout / Ease of expansion
Surface mounted electrical raceway
Studless wall construction
Premium Components
Square D electrical components
Bard HVAC Units
Speed Rail
The shelters are fully customizable to suit your monitoring needs, featuring such options as:
Fully walkable roof decks
Met Tower attached directly to shelter, no need for a pad.
Stairs, ladder or internal hatch for roof access
Equipment brackets
Storage area for gas bottles
Equipment Racks
Pump boxes to reduce heat, noise and vibration